The nomination of former Supreme Court Chief Justice Ranjan Gogoi to Rajya Sabha has expectedly, but rather unfairly, kicked up a row. However, the controversy surrounding the nomination of this top legal luminary – who has had a distinguished and impeccable career record having delivered many landmark judgments – is unfortunate and mainly driven by the desperate need to score political points by the Opposition. It is also a sordid display of selective amnesia by a section of the press.
A look back at history tells us that this is not the first time that a former Supreme Court judge has become a member of Rajya Sabha, or taken up high office post-retirement. There has literally been a laundry list of top judges whose appointment to high office as well as elevation/continuation in office was self-evidently questionable.
First and foremost, no one can forget how former Chief Justice Ranganath Mishra was taken in the Congress Party post-retirement and then made a Rajya Sabha member in 1998 where he had remained till 2004. Incidentally, the same Ranganath Mishra had led the Ranganath Mishra Commission of Inquiry in the 1984 riots case whose report had given a clean chit to top Congress leaders, against whom there were several damning eyewitness accounts. In an irony of sorts,Ranganath Mishra was also appointed as the first Chairperson of the National Human Rights Commission in 1993, two years after his retirement.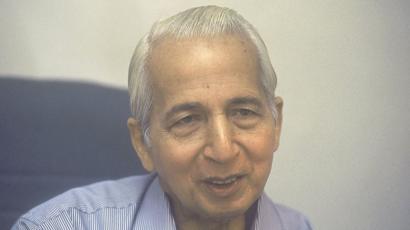 Former Chief Justice Ranganath Misra
Second, not many people today would have even heard of a Justice Baharul Islam, an advocate in Assam High Court, who became a member of the Rajya Sabha on a Congress ticket in 1962 and retained the seat for ten years until 1972. Thereafter he was appointed a judge in Guwahati High Court. Most bizarrely and something that had never happened before in the history of judicial appointments in India, after his retirement as a High Court judge, he was nominated as a judge to the Supreme Court in 1980 by the then Indira Gandhi government. Yet, this was not the end of Mr. Islam's great run in his career thanks to the benevolence of the Congress party. Once Mr. Islam had given a reprieve to the then Bihar's Congress Chief Minister Jagannath Mishra in the urban cooperative bank scam in 1983, he was again made a member of the Rajya Sabha the same year where he remained till 1988.
Third, we should jog our memories back to the 1990s when Congress had repeatedly through the leadership of Rajiv Gandhi and prime ministership of Narsimha Rao had stalled impeachment proceedings against then-Supreme Court judge Justice V Ramaswami, infamously known as the first judge in independent India against whom impeachment proceedings had been initiated. There had been charges of substantive financial and administrative wrongdoing during his earlier tenure as Chief Justice of Punjab and Haryana High Court. Notably, it was Kapil Sibal, the Congress MP today who had then 'eloquently' defended Mr. Ramaswamy before the House as a counsel for the judge. In fact, Mr. Ramaswamy had been allowed to discharge functions even after the publication of an inquiry committee report finding him guilty of gross misbehavior. What's more, he even went on to contest parliamentary elections on an AIADMK ticket from Sivakasi in Tamil Nadu, albeit unsuccessfully.
Justice V. Ramaswami 
Fourth, in the early years of India becoming a republic, another Supreme Court judge Sayed Fazal Ali was appointed as the Governor of Orissa soon after his retirement in 1951 by the Congress government.
Fifth, there have been several media reports on how Madras High Court judge Ashok Kumar was permitted to continue through the tenure of three Supreme Court Chief Justices despite severe allegations against the judge. The root of the trouble can once again be traced to the Congress party. Desperate to cling on to power by hook or by crook, the then Manmohan Singh government had buckled under pressure brought upon by its DMK allies, a party in close nexus with the judge. Interestingly, these allegations had often been raised by no less than a former Supreme Court judge through his blogs.
Sixth, Mohammad Hidayatullah, another former Chief Justice was appointed as the Vice President during Charan Singh's prime ministership in 1979. Significantly, Charan Singh's government was running with the support of the Indira Gandhi-led Congress.
To be sure, the above-cited instances do not in any way justify any impropriety for any political party or government. But at the same time, no one can take away the fact that Justice Gogoi has been a jurist of extraordinary caliber and courage. By delivering a decisive verdict on Ayodhya, a judgment by and large accepted and respected by most parties, Justice Gogoi has indirectly nudged the country to look forward to a future of progress and development and nor remain hostage to matters of abstraction and other-worldliness.
Then which sane and rational person would ever dispute his dismissal of a plea challenging the constitutional validity of an ordinance making triple talaq a punishable offense. By rejecting a heinous practice that had brutalized Muslim women for centuries in the name of faith, Mr. Gogoi certainly comes across as a man disposed towards gender justice and equity. However, his most noteworthy contribution is certainly in the case when a constitution bench headed by him had upheld the Delhi High Court's judgment declaring the Chief Justice of India's office as a; public authority' and as such falling under the Right to Information (RTI) Act. A rare and inspiring act of offering one's own office for public scrutiny!
More so, he has also been an outstanding judicial administrator. Bypassing order on making available the apex court's judgments in seven languages including English and Hindi, the democratic-minded judge has sought to ensure that the largest possible number of people could access and grasp the legal matters in the country. For those who question his impartiality, they should remember that he was one of the four judges who had held the unprecedented press conference raising concerns about the independence of the judiciary.
Justice Gogoi had once said, "independent journalists and sometimes noisy judges" should be democracy's first line of defense. If such a person has been nominated to the Rajya Sabha, any brouhaha is purely political.