Kalpana Chawla, an Indian-American astronaut, was one of the seven crew members who died in the Space Shuttle Columbia disaster on 1 February 2003.
Chawla was born on 17 March 1962 in Karnal, Haryana. Her parents Banarsi Lal and Sanyogita were Partition refugees from Pakistan.
The first India-born crew member of a US space mission, Chawla went to Karnal's Tagore Baal Niketan Sr. Sec. School and studied aeronautical engineering at Chandigarh's Punjab Engineering College. She went on to secure a Master's degree in aerospace engineering from the University of Texas in 1984 and followed it up with a doctorate of philosophy in aerospace engineering from the University of Colorado.
She married Jean-Pierre Harrison, a pilot, and became a naturalised American citizen.
Chawla began to work at NASA's Ames Research Centre in 1988. Her initial research areas included simulation of complex air flows experienced around aircraft. She joined the Overset Methods Inc., California in 1993, where she worked in a team that was involved in simulation of moving multiple-body problems.
She flew in an American space shuttle for the first time in November 1997 as a robotic-arm operator and mission specialist. The flight had some glitches. She was unable to retrieve a Spartan satellite that had drifted away after being released by the shuttle. Later, astronauts retrieved it after a space walk. The episode dented her confidence and she was afraid she wouldn't fly again. But her fears were soon laid to rest. As she later said: "Some of the senior people, the very senior astronauts, shook my hand and said, 'K.C., you did a great job. Don't let anyone tell you different'."
Describing her first space flight in an interview to the India Today magazine in January 1998, she said: "The first view of the earth is magical. All of us had grown fond of watching the Himalayas pass by. I saw the Brahmaputra and how it turned to meet the Ganges. And the Ganges delta looked very serene. What is mind boggling is the tremendous speed we were going at. We crossed the Himalayas in less than two minutes, and then you realise, 'Oh My God' within an hour and a half, we have gone around the whole planet. It is a very overpowering realisation that the earth is so small. The atmosphere looks like a ribbon . . . I could not get over the notion that in such a small planet, with such a small ribbon of life, so much goes on."
She was selected for her second space flight in 2000 but the mission was delayed. Eventually she boarded the Columbia on 16 January 2003, which would tragically be her last mission. Her various tasks on the flight included conducting microgravity experiments.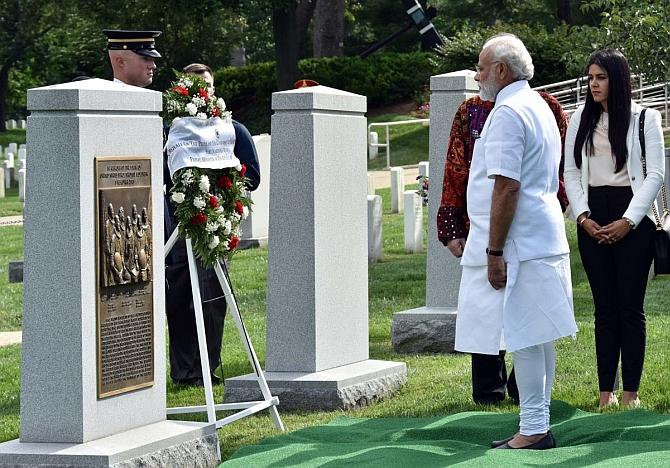 Prime Minister Narendra Modi pays homage to Indian-American      astronaut late Kalpana Chawla at the Space Shuttle Columbia Memorial
When the shuttle was due to land on 1 February, it disintegrated over Texas while entering the Earth's atmosphere, killing all seven crew members on board. Those who perished included Commander Rick Husband, Pilot William McCool, Payload Commander Michael Anderson, Payload Specialist Ilan Ramon, and Mission Specialists David Brown and Laurel Clark.
In an address to the nation, the then US President George Bush said: "My fellow Americans, this day has brought terrible news and great sadness to our country. At 9:00 a.m. this morning, mission control in Houston lost contact with our space shuttle Columbia. A short time later, debris was seen falling from the skies above Texas. The Columbia is lost; there are no survivors . . . The cause in which they died will continue . . . Our journey into space will go on."
In a tribute to Chawla, the writer Ruchir Joshi wrote in the Outlook magazine: "An untimely but heroic death sometimes does a lot more to inspire people than a long life safely and successfully lived . . . When I now see those leather-jacketed Karnal girls on TV saying they want to follow Kalpana didi's footsteps, I know the one thing that's going to come out of this tragedy is a lot more dedicated young women dreaming of space-walking . . ."
When she first flew into space Chawla had remarked: "It was very far-fetched to think I'd get to fly on the space shuttle. Because I lived in India in a very small town. And forget about space, I didn't even know if my folks were going to let me go to the engineering college."
But even when she was studying in college in India, she dreamt of the skies. She had pictures of space shuttles in her dorm. As she later put it: "I like airplanes—it's that simple.
COURTSY :MAP OF INDIA